Oh dear see what anyone thinks about this post.
I like anything to do with Nelson's day-to-day life so this letter is of interest - but on reading the auctioneer's transcription of the letter my first thought was "what on earth is Nelson going on about?"
I was going to make a post to ask if anyone could make proper sense of the letter - but before that went on to the auctioneers website so I could read a larger version of Nelson's original writing.
Well I am pretty sure that the auctioneers have misinterpreted one word and it makes all the difference.
I think they have read "last" where it should be "lost".
See my enlargement below.
If I am correct it seems that Nelson has lost a diamond and had previously enlisted the help of someone (recipient of the letter) to find it. In this letter he is thanking that person for their help but the diamond was not as valuable as he thought so he has gone ahead and bought a replacement.
Now I can't help thinking about the aigrette. Possibly a diamond fell out of it at some point. As I said above maybe he tried to find it and eventually decided to call it a day and buy a replacement. But it doesn't have to be the aigrette of course.
What does anyone think?. If there is a general agreement that I am correct shall I bother to tell the auctioneer? On several occasions over the years myself and others have had to tell highly paid auctioneers how to do their job. It all gets a bit wearisome!!
Attachment: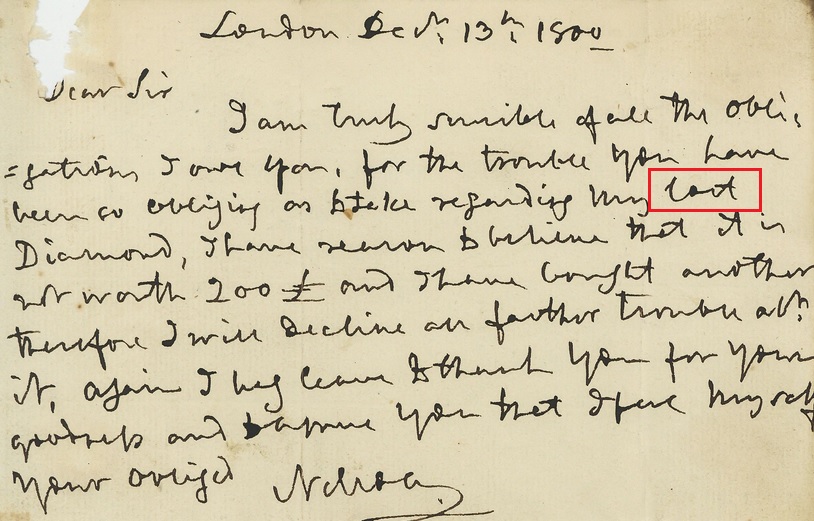 lost.jpg [ 156.54 KiB | Viewed 5148 times ]