Vicki,
Glad the information was of interest, of course I would be glad to share the other information I have collected. I will do it one section at a time. For now, I will give you details of the second half of the 1805 club walk. This took us from Trafalgar square to St George's Church, Hanover square.
Leave Trafalgar square, and proceed onto Pall Mall. On your left you quickly reach Waterloo Place, which leads onto Carlton house Terrace.
Carlton House-
This was the sight of the London residence of the Prince regent. On 11 September 1805, Nelson grudgingly complied to a command for an audience with the Prince prior to leaving for Trafalgar.
Re-join Pall Mall via Carlton House Gardens, directly opposite enter St James Square. In the far left hand corner you will see.
9 St James Square
(now number 11)-This was the home of Nelson's friend, advisor and prize agent Alexander Davison. The house is still exactly as Nelson would have known it. Davison purchased the property in 1798 for £25,000. During his brief spells in London, Nelson would conduct many of his meetings from this address. (below 9 St James Square)
Attachment: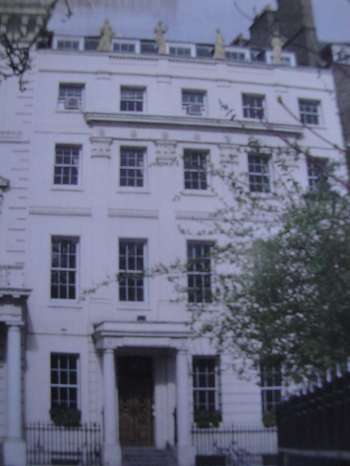 1345670561_tmp_003.jpg [ 49.81 KiB | Viewed 7849 times ]
Leaving St James square via King Street, look to your right for the junction with Bury Street.
Nerot's Hotel-
On King Street almost directly opposite Bury Street is where Nerot's Hotel was situated. Nerot's opened in 1776; it moved to Clifford Street in 1835. The King Street building was then demolished the same year. On 8 November 1800 it was the scene of Nelson's reunion with his wife, following a three year absence. The scene was shared in the company of Edmund Nelson, William Hamilton and a six month pregnant Emma. (Oh, to have been a fly on the wall!)
Follow King Street to its junction with St James Street, and then turn left. At the junction with Pall Mall you will arrive at:
St James Palace
-Nelson attended numerous King's levees at St James Palace. The first in 1783 at which he was warmly received by his Sovereign. Unfortunately this would not always prove to be the case.
Return onto St James Street and walk toward Piccadilly, on your right half way along the first parade of shops you will see:
Lock & Co
-The most famous hat company in the world, Lock & Co have been trading from these same premises since 1670. The shop is still as Nelson would have known it when calling here just a couple of days before leaving for Trafalgar. Receipts for some of Nelson's hats still appear in the company ledgers.
A little further up on the right hand side, opposite Brooks club, at the junction with Park Place, would have been the location of:
Hannah Humphrey's print shop.
- Never visited by Nelson but I had to include this. I am a great fan of James Gillray's work; it was at this shop that his work would be displayed to the public.
On the left hand side of St James Street, just past Bennet Street would have been:
54 St James Street-
Expecting Nelson home for Christmas 1799, Frances Nelson rented lodgings at this location.
(below a map of St James Street, King Street & St James Square)
Attachment: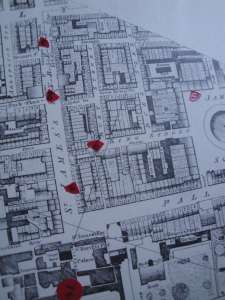 1345670940_tmp_004.jpg [ 44.88 KiB | Viewed 7849 times ]
When you reach Piccadilly, directly opposite you will see the Albemarle Street
u]44 Albemarle Street, Gordon's Hotel[/u].-The hotel was just a few properties back from Piccadilly on the left hand side of the road. Nelson took rooms at Gordon's hotel during his last stay in London.
Two addresses on Piccadilly figure in Nelson's story, both are close to where Piccadilly Circus is now located:
19 & 23 Piccadilly.-
19 was a flat above a saddler's shop rented by Nelson following the death of William Hamilton. For proprieties sake he could not be seen co-habiting with Emma.
23 was the home taken by William & Emma Hamilton following their return from Naples. It was at this address on 6 April 1803 that William Hamilton died, with both Emma and Nelson by his side.
The outline for the proposed Piccadilly Circus appears on the map. From this you can see the position of 19 & 23 in relation to the current road layout.
Attachment: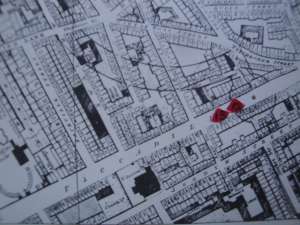 1345671217_tmp_007.jpg [ 36.28 KiB | Viewed 7849 times ]
Travelling back along Piccadilly toward Green Park two roads on your right hand side are of interest:
17 Dover Street-
This was the last address the Nelson's shared as a married couple. The house would have been located just after the junction with Stafford Street, on the right hand side of the street.
21 Clarges Street
- When entering Clarges Street from Piccadilly 21 would have been just beyond half way on the right hand side. This was Emma Hamilton's London residence following the death of her husband Sir William Hamilton.
Returning along Piccadilly on your left just beyond Albemarle Street is Old Bond Street. Turn left and follow the road through to New Bond Street. On the left just after the junction with Bruton Street you will see:
141 Bond Street-
This address displays a distinguishing blue plaque recording Nelson's stay in 1797. Nelson and his wife stayed here following his return from Santa Cruz, where he had suffered the loss of his arm. It was at this residence that Nelson was famously disturbed by a mob celebrating Admiral Duncan's victory at Camperdown.
96 Bond Street-
Now numbered 103; this property can be found on the right hand side of the road half way between the junctions of Brook Street and Blenheim Street. This is the only property in London that displays the official council blue plaque recording a Nelson connection.
If you return back down New Bond Street until you reach Maddox Street then turn left. Follow Maddox Street for a couple of hundred yards you will reach:
St George's Church, Hanover Square-
Following his recovery from the loss of his arm Nelson sent a letter of thanksgiving to St Georges. The original is no longer at the Church but they still have a photocopy of the letter which they kindly showed me when I visited. It reads:
An officer desires to return thanks to Almighty God for his perfect recovery from a severe wound, and also for the many mercies bestowed upon him.

December 8, 1797
I will try and post some more soon Vicki!
Richard.