I didn't think I would be able to help in any major way with this query then I had one of those "knock me down with a feather" moments when I found the letter below which was printed in the Times in April 1888.
As you can see it ties William Finch-Hatton incontrovertibly to at least one item (a Guzzadi portrait) previously owned by Sir William Hamilton. I have deduced that Robert Fulke Greville was his mother's brother, then he in turn was the nephew of Charles Greville, who as we know was the nephew of Sir William Hamilton. So that is quite likely the line through which at least one of SWH's possessions was inherited.
It obviously doesn't tell us anything about the window or its provenance but it does increase the possibility/probability that there is some truth in the story.
I would certainly be interested to see Robert Fulke Greville's will but the likelihood of the window being specifically mentioned is pretty small.
William Finch-Hatton's father (Daniel Heneage Finch Hatton0 was rector at Weldon before William. He died a year before RFG but it is possible that he could have been gifted the window at some earlier date and it then passed to William, as the story suggests. So that is another will it would be good to see! LOL

I don't think I will be able to take this any further but I hope it adds something that there was definitely a family link between SWH and William Finch-Hatton and that at least one item (the Guzzardi portrait) was inherited by him.
Attachment: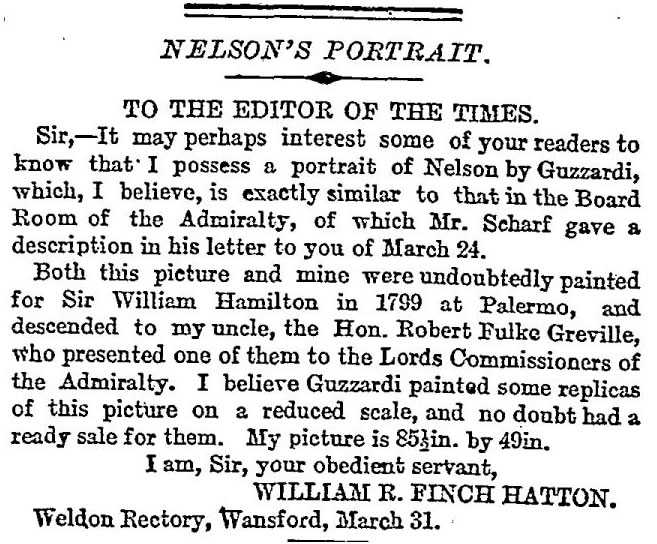 finch-hatton.jpg [ 115.83 KiB | Viewed 3801 times ]