I'm just going to throw this in as "food for thought".
Please don't think I am being deliberately negative or looking for problems. I just want to ask all the questions that I think are relevant and if the answers come out correct then we have probably got a genuine item.
Anyway I'll attach an image of the flag from Spartiate that was sold back in 2009(?). You can see that the red diagonal bars are central to the white bars unlike today where they are offset. Was there some comment about that at the time?
Whereas on the Leviathan they are offset as today.
Does that question whether the flags are from the same date?
I don't mind being called a buffoon over any of these questions I raise.

I'm deliberately playing devil's advocate. But would genuinely value any opinions one way or the other.
P.S. I really should research things properly before I make my posts. It looks as if the Leviathan flag is quite correct for the period. That makes the Spartiate flag incorrect and probably why there was comment about it at the time. But I can't for the life of me remember what conclusion people came to. So I am edging nearer to giving the Leviathan flag my seal of approval LOL!
Attachment: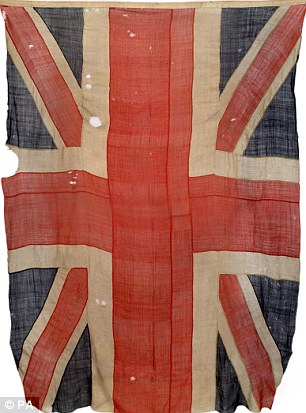 Spart.jpg [ 39.92 KiB | Viewed 15207 times ]